Free Website with Highlight Video Purchase
Increase your online presence with our free Top Athlete Profile Website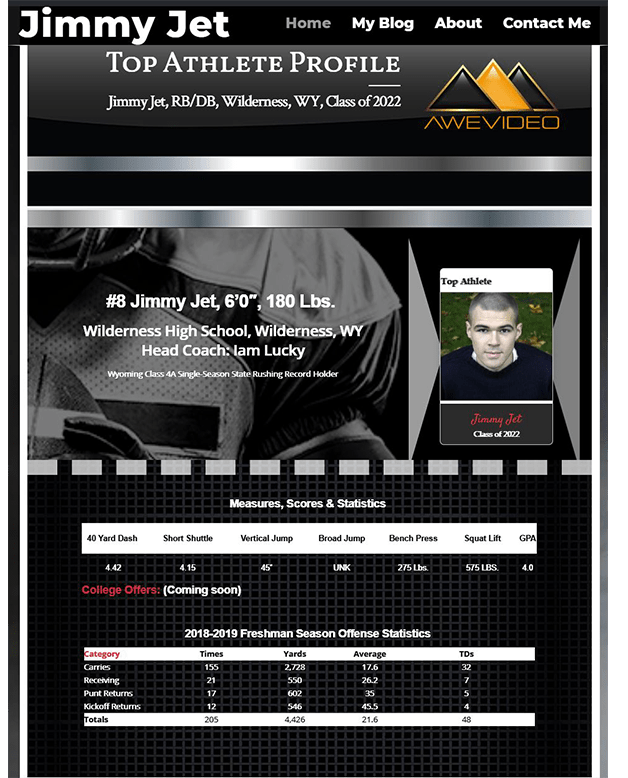 Clients who purchases one of our Highlight Video Packages get a free Top Athlete Profile Website powered by WordPress
WordPress website. Our awevideo.com hosted websites comes fully set up and ready to roll out of the box, showcasing and featuring their:
Highlight video

Physical and athletic measures

Season and/or career stats, honors awards

College interests and offers

Contact Page

First blog article introducing the release of their highlight video

Free email account.

Our eleven years of experience in producing highlight videos and providing recruiting services has demonstrated to us the importance of an athlete's online presence during the recruiting process. This is why we offer to set up a free website to our clients—we want them to have the very best opportunity for success in this highly competitive recruiting environment.
Today, we are pumped to announce that we have stepped up our game by providing our clients a free WordPress website. Used by over 30% of the top 10 million websites, WordPress is the most popular website management system in the world.
The feature-rich and time-tested WordPress engine allows us to provide our clients with more flexibility and opportunity to interact with site visitors and to increase their visibility with the search engine optimization (SEO) tools and plugins available in WordPress. In addition, the move to WordPress helps us to future proof our clients' websites, since WordPress constantly upgrades its core engine and features with the latest state-of-the-art technology.
Subdomains
Hosted on the awevideo.com domain, our client websites are a technically what is called a subdomain to our domain (awevideo.com). The client websites we create will appear like this in a web browser "myname.awevideo.com. Where "myname" is the first and last name of the client.
The beauty of all this—to keep things short—is that subdomains are treated like a separate stand-alone entity by Internet search engines—as if they have no connection to the primary domain. This is the same method employed by Website builder companies like Wix in their free websites offers. But Wix doesn't set up your site for free like we do. Moreover, Wix begins to charge monthly fees for the things we give our clients for free.
I'm mentioning all of this not because Awe Video is trying to compete against companies like Wix. On the contrary, it's to show the tremendous value our clients receive with our free websites.
We not only set up our client websites for free, we maintain the backend of the site as well as update the frontend with important athletic achievements and/or measures throughout the athletic career of our client.
Branding and Ads
Notice: Awe Video's Free Websites will be branded in the right sidebar with our company's Giza Gemstones logo and the sites will feature Google ads.
These Google ads are nowhere near a significant money maker for us. But Awe Video, like most all companies, use Google ads because we rather be safe than sorry. After all, Google almost completely dominates searches on the web. And despite Google claiming otherwise, I cannot see why their search algorithms would not favor websites displaying their ads.
But I digress.
You're in Control with Backend Access to Your WordPress Admin Panel
We offer our Highlight Video Package client's backend access to their WordPress site. Starting at a one-time fee of $69.00 our clients can have access to their administration panel in the WordPress Role as Author, where they can manage, publish and edit their own posts.
The additional benefits being an Author or having a higher WordPress role are:
No Awe Video company branding,

No Google ads displayed on the site

You can have your own domain name

Move your entire website to another hosting provider at any time.

 
Listed below are the 5 primary roles available to WordPress Users and the one-time fee applicable to each role:
Administrator–—has access to all features within the site—$129.00
Editor—Can take control over the publishing and management of all posts and pages on a website, and additionally perform comments moderation without limitation—$89.00.
Author–Can manage, publish and edit his own posts—$69.00
Contributor–—Can manage his own posts, but cannot publish them—NA
Subscriber–—who only has read privileges, and cannot make any changes to the website. NA

 
Note: We only charge the difference in price for any future upgrade from Author through Administrator.
Having backend access as a Site Administrator opens up nearly unlimited possibilities to include adding additional plugin modules and functionality to even setting up your own eCommerce store or changing your site template. Currently, Awe Video has 100 premium WordPress templates in our inventory that are free to our clients. Plus, there are thousands of other free and premium WordPress templates on the market from which to choose.
Website Package
Websites Are Available to Non-Highlight Video Package Purchasers
Awe Video's Website Package allows any athlete to have a site with the same initial setup and features found in our Free Top Athlete Profile Website.
Like the Top Athlete Profile Website standard features, Website Package purchasers do not have access to the backend. However, they are permitted to gain backend access on the same terms, roles and pricing as our Free Website clients.
This is an idea way for any athlete to increase their website presence and for them to gain more control over the recruiting process.
The Website Package price is $139.00.
Terms of Use
All website clients and users must comply with all the rules and regulations of our hosing server provider, Bluehost.com, which basically states the obvious: You can't engage in any unlawful activity or violent or discriminatory behavior, as well as you must abide by all their online permitted usage and storage limitation requirements.
Click the following link to view Bluehost.com hosting rules, regulations and policies.