Awe Video LLC FAQs: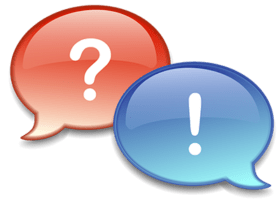 ---
Free Website and Webmaster Questions and Answers on page 2
Highlight Video Questions and Answers
Can I send you the video footage I take from my phone?
Absolutely! We can work with just about any video file format you can throw at us. We can also color-correct and stabilize shaky video up to a certain point. Unfortunately, we can't fix things like poor-quality video footage.
Do you only make football and basketball highlight videos?
We make highlight videos for any sport. We also do team season and promo highlight videos. There isn't much we cannot do when it comes to producing videos. Let us know what you want, and we'll do it.
Why do you give your customers who buy a highlight video free websites?
We set up free websites for our clients who purchase one of our Highlight Video Packages because we know it works! Back in 2010, we began setting up free websites for our clients. So, through our research and experience, we have first-hand knowledge of how an interactive website featuring well-made highlight videos, stats, and online articles about our clients can work wonders in helping to promote them. 
Studies have shown that a robust online presence is critical in sports recruiting. Everyone wants to "see the goods," meaning a video of a prospect in action. In that pursuit, coaches, recruiting services, the media, and fans will google a prospect's name to see if they can find them on film or at least see more pertinent information. Therefore, we furnish free websites to give our clients the best opportunity to get noticed so they can ultimately receive college scholarships or professional opportunities.
Do you have a money-back guarantee?
If you are talking about a satisfaction guarantee. However, we guarantee that we'll promptly return 100% of your money if we cannot complete your project for any reason. We take extreme pride in our work and aim to produce a highlight video project that showcases our clients' talents in the best possible light. Because at the end of the process, we want our clients to believe they made a wise choice by entrusting us with their project.
How much control do I have over my project?
We encourage our clients to take as much control in the process as they like. Our video projects are a team with our clients, working together to realize a specific desired outcome. So we encourage our clients to give us ideas and input, and we'll do our best to bring them to life.
Do I have to be a high school or college athlete to use your company's highlight video services?
No, we produce sports highlight videos for all ages, from pee-wee to professional or individual adult amateur sports clubs and teams. We even make highlight videos from old VHS tapes for personal mementos or special occasions.
Why does it cost so much to make a highlight video?
Film editing and production are time-intensive tasks that consume tremendous labor hours. That being said, the prices we charge for our services are nowhere near the high end of the market's spectrum. Plus, we provide more added value with our Free Website and the other things we do to promote our clients than anyone else in the business.
How should I send my film footage to Awe Video LLC?
We strongly recommend that you send your footage electronically, over the Internet, to our My Cloud® server; we'll provide you with all the details on how to send your video footage once we receive confirmation of your paid order. Of course, you can always send your footage to us by snail mail. You can find our address on the Contact page. Note: Tightly pack and secure DVDs, VCDs, CDs, and tapes, so they don't bounce or slide inside the container. Bubble wrap-lined envelopes, and small bubble-wrapped filled (or wadded newspaper-lined) boxes are acceptable.
How many minutes long will my highlight video be?
The length of your highlight video will be anywhere from a minimum of three minutes (10-15 plays) to a maximum of ten minutes long (about 30-40 plays). It depends on several factors, such as the sport and position(s) you play. Because our no.1 priority is to make the highlight video serve the purpose of getting coaches to want to take a closer look at our client. We evaluate your film footage and pick out your best clips based on the attributes of the playing position that recruiters like to see. Then we sequence the clips to make the most impact. We strongly suggest that if you want your highlight film to have the ultimate effect, let our experts determine the number of specific clips to use in your project. We're on your side 100% because we only look good when you look good.
Do I have to pay the entire amount for the project in advance?
Yes. We will not begin work on any project until the client fully pays for the service. Once we take your payment, we are as committed to producing a great video and delivering the project on time as you are to hold onto your money. It's a win-win scenario: You know we have to come through when you pay us in advance, and we know we have a committed client we want to make happy. 
Please note that our PayPal Payment gateway provides a Buy Now, Pay Later option, which allows you to spread your payments out over four months. Click here for details about the Pay Pal Buy Now Pay Later option.
How long will it take before I receive my finished highlight video?
Allow up to 7 to 10 business days (M -F) for us to complete your project. Your Free Top Athlete Website may take 3 to 5 additional business days to come online. Please note: The project completion time does not commence until we have received all the footage and any other material(s) or information we need to begin working on the project. We'll upload your completed highlights video to our My Cloud® server for your review no later than the 10th business day from the time we receive your video footage.
Page 2 Next: Free Website and Webmaster Questions and Answers
Pages: 1 2