How to contact college coaches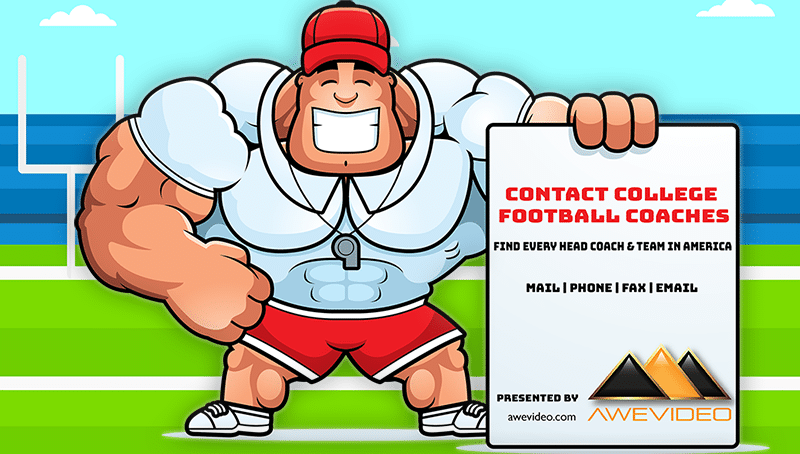 Our staff at AweVideo.com has compiled a list containing contact information for every 11-man college football team in America.
To contact a college football coach, navigate to our list below, which is broken down by the governing body, division, conference, and school. Locate the governing body (NCAA, NAIA, NJCAA, or CCCAA), click on a division or conference, and find each team's Head Coach, Mailing Address, Phone, Fax, and Email.
NCAA FBS & FCS Conferences
NCAA FBS, last updated on March 6, 2023
Home of the big boys: Each NCAA FBS program is allowed to have up to a maximum of 85 players and 85 full scholarship student-athletes on their rosters. In addition, FBS member schools are limited to awarding no more than 25 full scholarships per season. The NCAA FCS schools are allowed only a maximum equivalency of 63 full scholarships to spread out among their permitted roster of up to 85 players.
There are currently 131 NCAA FBS programs.
NCAA Division II Football Conferences
There are currently 165 NCAA Division II (D-2) football programs. Each member school is allowed an equivalent maximum of 36 full-scholarship players on their roster. Though this is the maximum allowed, many of the programs don't award near their allotments. That means the majority of players at D-2 schools receive partial scholarships. Therefore, these student-athletes must rely on financial aid packages to make up for the shortfall or pay out of pocket to cover the cost of their education.
NCAA Division III Football Coach Contacts
The Division III (D-3) schools consist of some of the finest higher-learning institutions in the country. However, by NCAA rule they are not permitted to award any athletic scholarships, but they do provide plenty of financial aid packages. And you will need all the monetary assistance you can get to cover the tab of attending one of these very expensive private schools.
There are currently 250 NCAA D-3 schools that field football teams competing within 29 different conferences. Therefore, in order to save a lot of time and digital space, we combined them all into one table that can be easily manipulated to bring the schools up alphabetically or by conference or state. Click on the link below to get started.
National Association of Intercollegiate Athletics (NAIA) Conferences
Like the NCAA D-3, the NAIA is home to some great but very expensive private colleges. However, unlike the D-3 schools, the NAIA's governing body allows its member schools to award student-athletic scholarships. The problem is—nobody seems to really know exactly how many Full scholarships these private institutions award.
There are currently 95 NAIA football programs.
Junior College (Juco) Football Conferences
The juco schools are governed by two separate bodies that operate independently of the NCAA. These two authorities set all the rules and regulations for the sports programs at these two-year colleges: National Junior College Athletic Association (NJCAA) and the California Community College Athletic Association (CCCAA).
The NJCAA is the most recognizable of the two bodies because it has members from states all around the country except for…you guessed it…California. And as the name implies, all the CCCAA member schools reside within California.
If you end up at one of these colleges after high school, it's because your grades, completed core class requirements, or test scores didn't meet the minimum NCAA Clearing House standards. Fortunately, a stop at a juco is not the end of the road. Maintain a 2.5-grade-point average for a term, and you can—qualify—to attend an NCAA member school as a student-athlete.

Juco programs are permitted to award student-athletic scholarships. Many great NCAA and NFL players got their second chance by attending one of these programs out of high school.
There are currently only 57 NJCAA football programs and 68 CCCAA football teams. The numbers of juco schools continue to dwindle, with last year seeing the NJCAA's Western States Football Conference lose all its members except for one lone survivor, Snow College.
This is a serious trend that folks who love football need to take into consideration before it's too late. Click on the following link to learn more: The Game of Football is Dying [a Death by a Thousand Cuts].