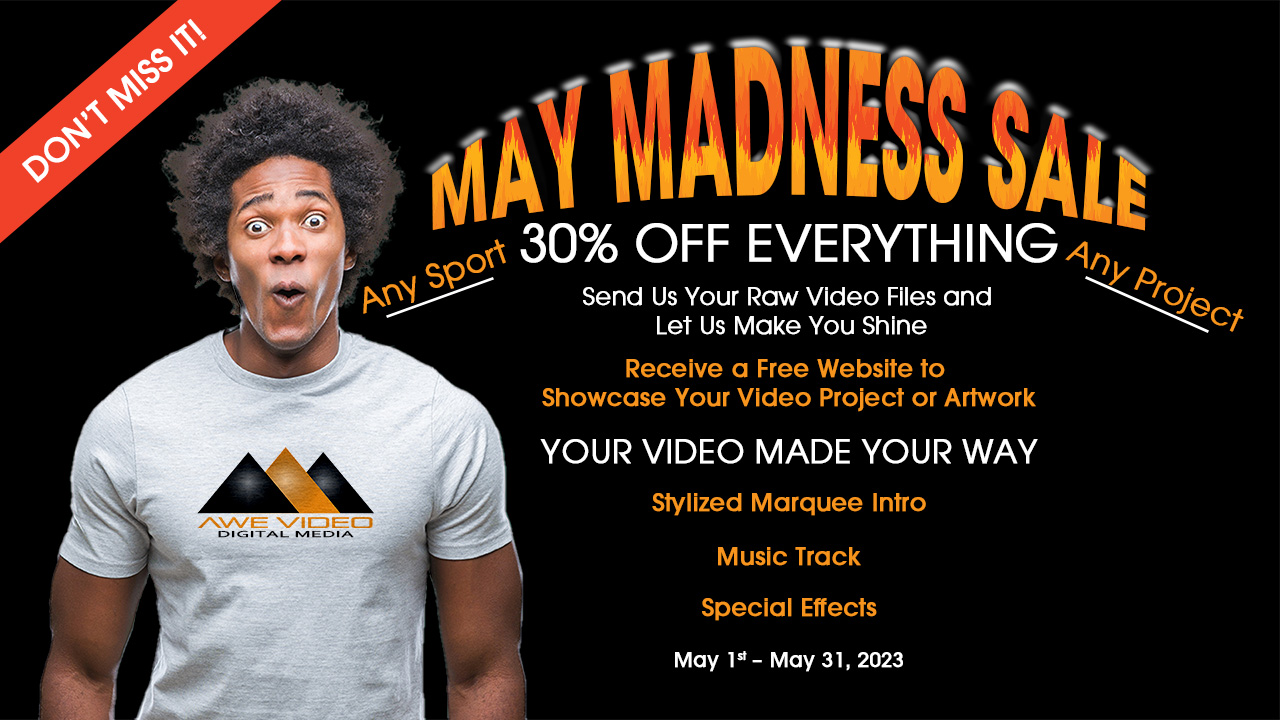 Don't Miss Our May Madness Sale
Get 30% off any digital media project or service we offer. Plus, receive a free website to showcase your video project on qualifying purchases1.
Our free WordPress-powered websites include a blog, image gallery, and social media links. They are an ideal vehicle for athletes, teams, and organizations to promote themselves or their cause. Best of all, we set up your free site for you. You only have to supply us with the video, photos, links, and blog material you want to be posted. The May Madness Sale runs from May 1 – May 31, 2023.

Frequently Asked Questions
Are these real websites and not web pages?
Our free websites are dynamic sites—not static webpages. The websites include a blog, a motion image gallery, social media icon links, a contact page, and the ability to create additional pages as needed.
Can I sell stuff on my free website?
Our free website can easily convert and upgrade to an e-commerce site. However, we charge a setup fee for the service, and a hosting fee would apply.
Are the free websites only for athletes?
Anyone with a qualifying purchase receives a free website to showcase their project: Sports teams, organizations, clubs, or special event projects can showcase and promote themselves on our free websites.
What kinds of video projects can Awe Video produce?
Besides sports recruiting highlight videos and team season highlights, we can and have completed many other types of video and digital graphic projects, from business presentations, how-to videos, and slideshows to logos and short movies. In addition, we also customize and deploy theme-based WordPress e-commerce websites and provide web hosting services for our clients. So, if you have a particular digital media project in mind or web service needs, please get in touch with us and provide the details about your project, and we'll quote you our price. You may contact us by phone, email, or snail mail via the information found on our Contact page.
Do the free websites come with an email account?
You get two email accounts with our free websites—unlimited email accounts when you upgrade to our shared hosting or virtual private VPS (virtual private server) account.
Are the free websites customizable?
Yes! We work with our clients to get their ideas on the home page's styling, color, theme, and the information and images they want to display on their site. We design each home page based on our client's needs and the sport, team, business, or organization they represent.
Do I have a personal domain name for my free website?
The free websites are subdomains of awevideo.com. Your free website name will appear as username.awevideo.com, where "username" represents the name of your site. You can choose the name that appears before awevideo.com, for example, donjames.awevideo.com.
If you later decide you want a personal domain name (without the awevideo.com), we can set that up for you and migrate your free site to your new domain name. Of course, you must pay for your domain name and incur hosting fees.
Get ideas for your free website
Visit a live free website by clicking the following link: Awe Video Free Website.
---
Qualifying purchases for our Free Website include any Highlight Video Package or a Special Project production totaling at least $249.99 before the 30% off May Madness Sale discount.