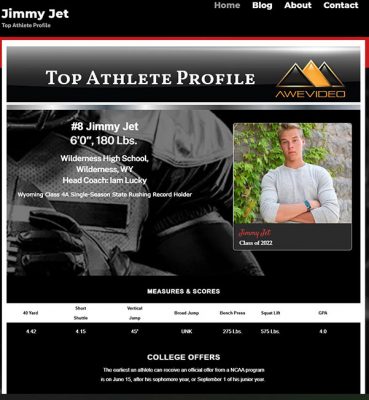 Awe Video LLC is a new name on the roster when it comes to sports highlight video producers and recruiting services.  However, our team at Awe Video brings a wealth of experience and knowledge to the game of sports recruiting services.
The answer was we needed a complete overhaul!After an eleven-year run at sports highlight video producer Hithighlights.com, management took a hiatus to reevaluate the market for the purposes of determining what we could do to better serve our clients.
In this highly competitive recruiting environment, we recognized that we needed to make drastic changes in order for us to achieve desirable outcomes for the highest percentage of our clients. Based on our research and experience, we determined the most critical piece to solving the puzzle was our relationship with the client.
Building partnerships with clients
We ascertained that we needed to build meaningful partnerships with each of our clients (parent/guardian and athlete) throughout the entire recruiting process. Accordingly, this meant we also needed to develop new products, services and processes to better promote and educate them. Of course, all the aforementioned required that we update our infostructure to meet our demands and to serve our clients well into the future. So, Awe Video LLC was born.
Through our life experiences, we at Awe Video LLC thoroughly understand the recruiting process and the emotional strain, anxiety, frustration and even confusion that comes with it. We understand it from a personal standpoint of having to go through it ourselves as athletes and coaches, and also from witnessing our own sons and daughters struggle through the process. Oh, and we can never forget the scores of anguished parents/guardians and athletes that we have personally worked with over the years.
We know by the odds of getting a scholarship that not every one of our clients will be successful. Nonetheless, we are committed to providing the best platform we can to give our clients the best opportunity to achieve their dreams. 
At Awe Video we are taking all of our knowledge and experience regarding how the recruiting process actually works, and putting it into a plan of action to best serve our clients.
We look forward to partnering with our future clients, providing them with more innovative products and services geared to help promote, educate and guide them through the recruiting process.