Urbandale's D-1 recruits Harrell and Waylee not enough to stop the Johnston Dragons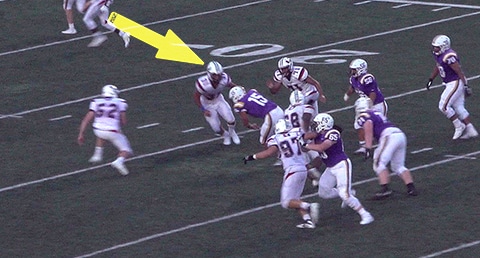 Game Notes: Johnston wins 27-6.
Okay. This was not the most thrilling game to watch but there were a couple of legit D-1 athletes on the field along with some young developing talent.
Keep an eye out on Johnston sophomore QB Noah Storts (listed at 6'3" 205 lbs.), he has the size and a decent enough arm to put him on my list of potentials. I'm interested to seeing how he develops the rest of the way this season.
If nothing else—I love Johnston's Cael Nesheim's (listed at 6'0", 180 lbs.) enthusiasm for the game! The energetic, junior WR/DB from Johnston was part of the tandem, along with Storts, who made the AweVideo.com Play of the Game.
I saw flashes as to why Iowa made an early scholarship offer to Urbandale LB Jaden Harrell (listed at 6'2", 225 lbs.). Only a junior, Harrell is stout with good strong legs, quickness, speed and on occasions—he shows explosiveness. That's something I always look for in a prospect. Show me the ability to explode off your feet and you got some promise in my book. And this kid has it as well as all the other basic skill sets he needs to develop into a fine D-1 player. He's only a junior? Oh my!
I was hoping to see more from the J-Hawks' Northern Illinois RB recruit Harrison Waylee (listed at 6'0", 180 lbs.). But the Dragon defense had Wayllee on lockdown. I mean—they shut him down! Waylee also left the field late in the game with a leg injury. Hopefully, the young man will rebound quickly from this game and shine—like we know he can. Unfortunately, a running back is only as good as his O-line will allow. Or is Johnston's defense really that good?
Stay tuned!