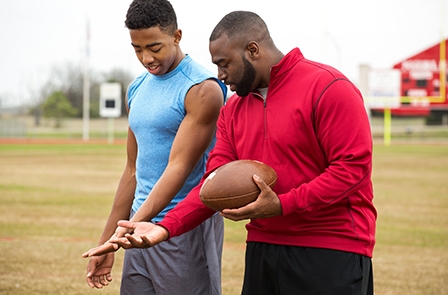 College football, like Coca-Cola and hot dogs, has become a staple of American life. The sport is so ingrained in our culture that many of us mark the seasons by its coming and going. We even debate whether or not it was a good or bad day based on our favorite team's performance. This reality—for better or for worse—has made college football big business in America, raking in billions of dollars a year in ticket sales, TV contracts, sports betting and retail sales of team merchandise.
First and foremost college football is strictly "big business." And for athletes and parent/guardians who understand this concept going into the recruiting process—there should never be any ugly surprises for them down the road. Because they understand that the student/athlete is a very important and valuable commodity in the big business of college football. As a result of this understanding, they will exercise more control during the recruiting process as well as throughout the athlete's playing career.
College Football Is Big Business
Because of the additional money and prestige that comes along with having a successful football program, universities and colleges—emboldened by their donors and loyal fan bases—place enormous pressure on their head football coaches and staffs to do one thing above all else. Win games!
Head coaches who fall short of their university's expectations risk losing lucrative annual salaries and fringe benefits, with some of those monetary packages reaching in value of well over five million dollars per year. So, with that kind of crazy-money at stake, and fans wondering whether or not it's going to be a good or bad day, head coaches and their staffs are constantly on the lookout and in pursuit of the most important factor that determines whether or not they keep their jobs. To survive—ccollege coaches desperately need the best high school talent that they can convince to come to their schools.
This sounds like an easy enough thing to do for college coaches, but the NCAA throws a major stumbling block in their way.
The Stumbling Block
The NCAA requires that prospective recruits meet certain minimum high school academic grade standards and course requirements in order to receive a scholarship and gain admittance to one of their member schools. If a prospective student/athlete does not meet NCAA minimum requirements, or fails to achieve the minimum score on a college entrance exam–he is ineligible to receive a student/athletic scholarship.
I've seen way too many highly-talented high school ballers realize this dream-killer way too late in the recruiting process, waiting until their senior year before trying to turn things around. Some of them attempted going the junior college route. But most of these talented athletes just gave up the quest, leaving them forever wondering what might have been.
Start Early
Hopefully, parents/guardians are instilling the importance of education and being a good student to their children from the day they enter kindergarten. Parents/guardians should tie-in academic expectations with athletic success even more so once they notice their children developing into standout athletes.
Get them to fully understand and buy into the fact that the dream of playing college football is truly only a dream without the prerequisite high school grades and scores.
By the time a student/athlete enters their freshman year in high school they should be prepared to:
Know all the high school courses required for them to complete and the minimum grades scores to maintain in order for them to have an opportunity to receive a student/athletic scholarship.

Get with your high school counselor and find out where you stand in relation to your goals every year.

Make a plan of action to correct any deficiencies that will prevent you from receiving a student/athletic scholarship.
Because if a college becomes interested in a student/athlete—the first thing they are going to check on is their  grades. The colleges want to know if their required coursework, grades and ACT/SAT test scores will be good enough to pass the NCAA Clearinghouse standards by the time he graduates. Don't give them an excuse not to recruit you.
Police Your Social Media and Check Yourself Before You Wreck Yourself
The college football recruiting process starts in earnest the moment a high school student/athlete takes the field in a varsity game. Accordingly, be careful of what you say and do on any social media site—do or say the wrong things and they will come back to haunt you. Because football coaches will check social media accounts to find out more about a potential recruit.
Keep on your best behavior at all times–because one wrong move and kiss your dreams of playing college football goodbye.
Now that we got that stumbling block thing out the way let's move on to what is going to attract the college coaches to you in the first place.
Constantly Work to Improve Your Speed, Quickness and Explosiveness
Recruiting athletes has become a science. Well, maybe not exactly a science but at least a highly-crafted art form that uses a lot of ad hoc science. 
College football programs have all kinds of metric models depicting the ideal physical traits for each playing position. These models are  based on all sorts of physical measures, from an athlete's hand and foot sizes, height to body weight ratio, arm length, and speed and agility to name but a few. Nonetheless, not even the most elaborate and sophisticated physical model they come up with is able to measure human will power, or predict how human will power will reacts over time or to different situations.
This is why every Saturday, when you turn on the TV or radio, you hear game announcers talking about some walk-on player who clawed his way up to a starting position. Or why you hear about the 4 or 5-star recruit who has washed out and left campus or was kicked off the team.
There is not a lot an athlete can do about his physical body measurements like height or hand size except to hope that he grows. But he can always improve his agility, speed and explosiveness.
The Big Mistake: One of the biggest mistakes I still see being made by far too many high school players and their parent/guardians and coaches is placing so much emphasis on bulking up an athlete thorough heavy weight-lifting regimens . That's a throwback concept from yesteryear.
I'm not saying don't lift weights. I'm saying spend more time on the things that will truly separate yourself from the competition.
Today's game of high octane spread offenses and highly proficient aerial attacks demands speed, quickness and explosiveness at every position!
Learn how to properly run the Forty Yard Dash and 10 Yard Dash. Just learning how to line up right and working on your start could easily shave a couple of tenths off your dash times.

Practice running the Short Shuttle to lower your times. The Short Shuttle measures your quickness and agility.

Improve your Vertical Jump and Standing Broad Jump. Recruiters measure these elements to determine your explosiveness.
Constantly practice to improve on all of the drills and tests that college coaches use to measure an athlete's potential! Doing so will only make you a better athlete and improve your chances of getting a student/athletic scholarship.
Go to Camps
Non-college affiliated national camps: NIKE holds several camps throughout the year where high school athletes can get timed and measured in all of the above events. Some of the Nike camps are open to everyone while others are by invitation only. Attending one is a good way to start promoting your abilities on the national stage. But do not attend if you are not prepared to perform at your highest level.
College Camps: I highly recommended that every athlete attend at least one college camp, where they also measure your skill sets and introduce you to some of their offense and defense philosophies. Just know that they will be checking out everything you do from the way you walk to the way you interact with the staff and other competitors. And like the non-college affiliate camps, do not attend if you are not prepared to perform at your highest level.
Understand How Recruiting Services Rank High School Football Prospects
Recruiting services like Rivals, MaxPreps and others start ranking high school prospects the moment they step onto the field in a varsity game. In fact, most all of the 4-star and 5-star players in a given class have already been identified by the end of their sophomore football season in high school. There are typically about 400-500 of these high-caliber athletes per class. They are the physical phenoms who ace most of the physical metrics for their projected college position. Gifted by genetics and refined by hard work, these elite athletes get the so-called "early offers" from colleges.
It doesn't take a genius to identify a 4-star or 5-star prospect. And if any member school in the top half of the FBS colleges are offering scholarships to a particular high school student/athlete then he must be a 3-star prospect. Right? Well, in actuality that's pretty much how the recruiting services rating process works.
The ranking process all starts with a college showing interest in a prospect and nothing speaks clearer than an actual scholarship offer. As for everyone else—it really is a crap shoot. 
The truth be told, when we get down to the 2-star and 3-star players there is not a lot of separation among them in talent. Even more disturbing, there are a considerable number of athletes with no recruiting service stars next to their names that are as good—if not better—than some of the 2-star and even 3-star players who the various recruiting services have identified as such.
This lack of clear separation in talent among the rest of the players in a class who haven't received early offers or received signs of strong interest from colleges becomes problematic for the recruiting services. So outside of taking the word of a high school coach about a player's potential, recruiting services  will scour the Internet looking for video of a prospect or any other physical metric, performance data or player evaluations they can find to justify their prospect rankings.
It is what it is folks.
Never forget—this whole process starts the moment a high school student plays in a varsity game And the Internet will have an impact on the process.
Promote Yourself
In the Age of the Internet, it's imperative that a high school football prospect understands how to effectively increase his online presence. Because as we explained in our Odds of Playing College Football article, a prospect in a given class will be competing against over 260,000 others for one of the approximately 6,500 available full-ride scholarships. Accordingly, you better realize that a lot of your competition will already be actively taking the necessary steps to increase their online presence. 
An Unabashed Self-Promotion
Awe Video LLC is a new company but our management has over ten years in the industry producing highlight videos and helping clients successfully navigate the recruiting process.
We thoroughly understand how the college football recruiting process works and why the highlight video is one of the most effective tools a student/athlete can use in his or her pursuit of a scholarship. More importantly, we know how to deploy their videos and student/athletic achievements on various platforms to make them readily available and easily accessible by college coaches, media and recruiting services.
Our mission at Awe Video LLC is to help our clients achieve success and to constantly strive to find new and innovative methods and services to better meet their needs.
Remember: Start early on your academics, constantly work on your athletic metrics and promote yourself wisely.
Related Links
Do I Need to Make a Highlight Video?
Contact College Football Coaches (Complete Listing for Each School)