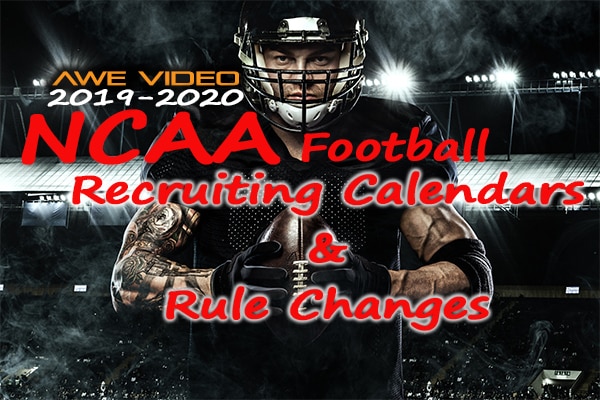 The NCAA recently released its official 2019-2020 NCAA football recruiting calendars, applicable to class of 2020 and 2021 high school football prospects.
You can view Awe Video's NCAA Football Recruiting Calendar [Simplified] which includes links to the NCAA official versions for FBS, FCS and Division II schools by clinking on the following link: 2019-2020 NCAA Football Recruiting Calendars.
Our NCAA Football Recruiting Calendar [Simplified] also lists all the important dates and definitions for the NCAA: Quiet Period, Dead Period, Contact Period, Evaluation Period, Early Signing Period as well as the answers to frequently asked questions. All of this in one convenient place.
In addition to our recruiting calendar, featured below is a recap of the NCAA FBS's 5 most important major rule changes for the 2019 season:
5 Important NCAA Rule Changes for 2019-2020 Season
Targeting Rule
The NCAA has added more clarity and less fuzziness for game official when reviewing and penalizing a player for targeting:
A: Instant replay officials will have to confirm that all elements of targeting are met when reviewing a call or the penalty cannot be called. Of course, this rule is only workable in televised games
B: If player receives a third targeting foul in a season the player is subject to a one game suspension. Also, each time after the third targeting call in a season the player receives a one game suspension.
Blind Side Block Rule
NCAA defines a blind side block as a hit on another player that comes from outside the opponent's field of vision. A player/team is penalized 15 yards for the infraction.
Wedge Formations on Kickoffs Rule
Totally eliminated: not even just two players can align shoulder-to-shoulder together on a kickoff.
Overtime Scoring Rule
Begging in the fifth extra overtime period, a team's possession period will be one play for a two-point try from the three-yard line.
Walk-ons Rule
Walk-on players are allowed to transfer without having to sit out a season.
To see the official version of the NCAA rule changes for the 2019 season, click the following link to see the 2019-2020 NCAA Football Rule Changes PDF.
Related Links:
2018-2019 NCAA FBS Head Coaching Changes
Odds of Playing College Football