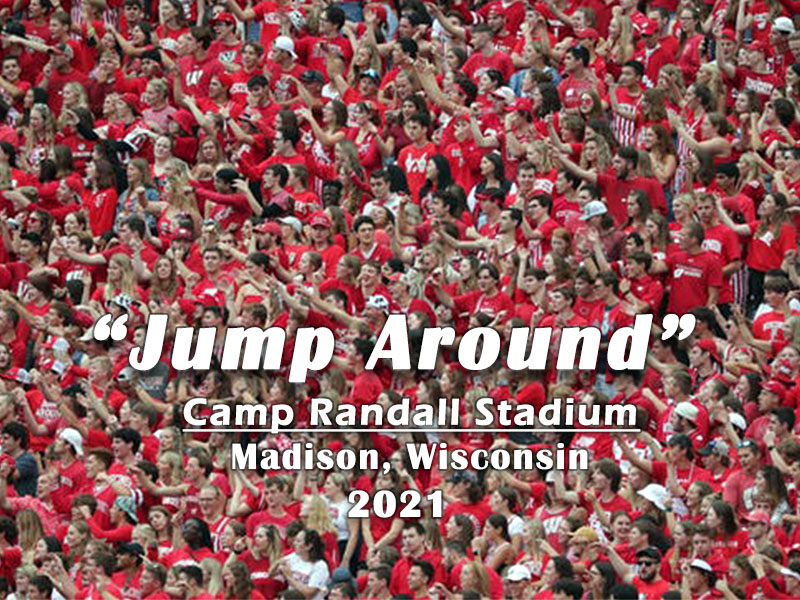 I saw some great college football action on TV this past weekend accompanied by happy, screaming fans inside packed stadiums. Geez, I almost forgot what that was like after last season put the kibosh on attendance at games due to the coronavirus pandemic. Hell, I was so pumped that I had to turn up my surround sound and sing along when they blared "Jump Around" by House of Pain at Camp Randall Stadium during the Wisconsin vs. Penn State game on Saturday.
So, do all the packed stadiums we saw over the weekend mean we are getting back to normal? I hope so. But regrettably, whether or not we live in equilibrium with this virus—not allowing it to force shutdowns or restrict large gatherings—will come down to our collective actions and behaviors. In other words, the raucous scenes of celebrating fans will once again become a distant memory if a large percentage of our population refuses vaccination against the virus or wear masks when required.
How did something so logical like wearing masks to prevent spreading an airborne virus or taking a vaccine to help control it become so political–polarizing?
Full disclosure: I am fully vaccinated. I decided to take the jabs to dramatically reduce my chances of hospitalization due to COVID-19 and deprive the virus of one less host for it to mutate and spread.

Nkosi
For centuries, people have been wearing face coverings and masks to prevent the spread of deadly diseases, and now it's become a political statement all of a sudden? And let's not forget, in the United States, all 50 states require children to be fully inoculated against numerous highly contagious deadly diseases by the time they reach kindergarten. These regimented series of vaccinations begin as early as two months of age, and some require more than one shot.
Vaccinations Required Before Attending Kindergarten in the United States
Note: Some states require additional vaccinations against other highly contagious and deadly diseases.
I'm highlighting all these already mandated vaccination requirements to make it crystal clear that humankind has been battling viruses and disease through vaccinations and preventive measures like wearing masks and washing hands for a very long time. And we have proven time and time again that we can control and defeat these pathogens and diseases when we come together and do the right things.
Let's face reality: COVID-19 isn't going to go away–it will likely be around for years to come. The virus will continue to spread and mutate until we suffocate it by refusing to give it any sanctuary inside our bodies. We know how to do this. So, for those refusing vaccination or wearing a mask, you only provide more fuel for the virus. As a result, we will never break free from the virus's deadly grip on our societal norms—like being a part of a raucous crowd at our favorite college football venue.
We are not back yet, but we are so close. Hopefully, the anti-vaccine/mask crowd will see the greater good and take a jab for normalcy. Because the Delta mutation is still wreaking havoc, and on its heels is the new Mu variant (may be able to evade existing antibodies, including those from vaccines), which looks very problematic indeed.
Let's all buckle down and do the right thing for ourselves and each other—suffocate and defeat this mutating SOB by getting vaccinated and wearing masks when required. For we literally can't afford to go backwards from here.
Related Links
State by State Vaccinations Required for Public School Kindergarten