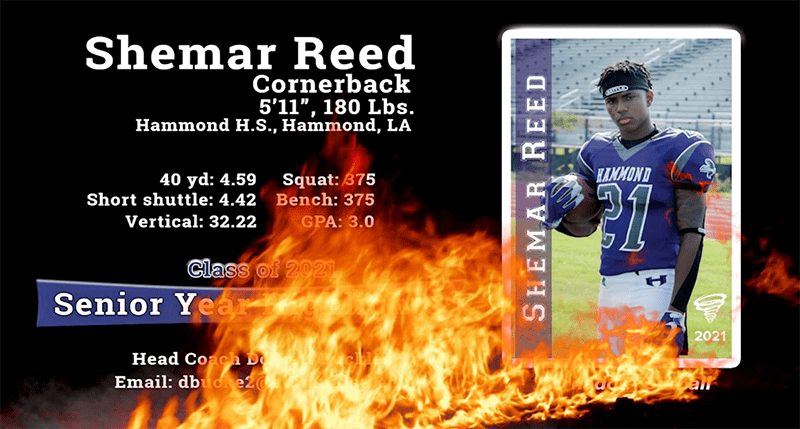 Late bloomers happen
In 2020, Shemar Reed, a 5'11", 180 lbs. senior at Louisiana's Hammond High School (Class 5A), finally earned a starting spot at cornerback, and now he wants to keep playing football in college. And even though his resume is short—like his senior season due to COVID-19—his ambition and skill set are strong and long.
The mixture of strong ambition and appropriate skill set can sometimes produce a bountiful harvest for the latent athlete, when he or she is discovered and adequately nourished, ergo, the term "late bloomer."
Shemar Reed's senior year highlight video demonstrates skills intriguing enough to consider the possibility that he may indeed be one of those athletes who will flourish down the road if given the opportunity and proper environment.
Over the past couple of decades, I've filmed, edited, and produced enough high school sports video to recognize the necessary fundamental positional skills and qualities that must shine through when watching a high school prospect capable of developing and performing at the highest college level. Unfortunately, some of the skills needed to succeed at the highest college level are innate and not teachable. The athlete either has these abilities, or he or she doesn't have them. In his highlight video that we re-edited, Shemar flashes intuitive skills along with those he undoubtedly picked up from his Tornados coaches.
Hopefully, some college coaches will be intrigued enough to dig deeper to see if this ambitious and talented young man may be a fit for their program.
Cultivate—and see the bloom!
Learn More: Visit Shemar Reed's Top Athlete Profile Website
Check out Shemar Reed's senior year highlight video, below: