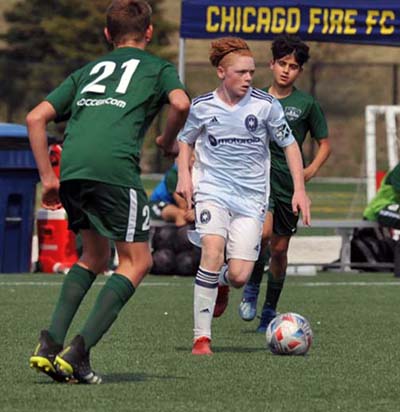 Liam Healey is only a pre-high schooler, but the red-top soccer wiz from Wheaton, Illinois already possesses high-quality ball-handling skills. Adept at controlling the ball with all parts of his body, Liam can smoothly weave around defenders and accurately deliver short and long-range kicks to his teammates or the goal with ease.
Healey's advanced abilities are undoubtedly due to him having the opportunity to hone his skills—at a very early age—under the tutelage of his father, Kevin Healey.
"He [Liam] had a ball under his feet since he could walk."

—Kevin Healey
"We have two soccer fields outside our backyard where I have been training him in addition to his clubs for years."
Liam began playing organized soccer by the age of six, and in 2018, he even got the chance to travel to Poland to compete in the annual Jaga Cup tournament. His Dad, Kevin, also played soccer and was talented enough to be selected to the Illinois Olympic Development Program at the age of 15, before going off to play in college.
Yet as good as Liam is in soccer, Kevin says what he admires most about him is the love and care for his autistic twin brother, Dylan. "He's a great brother to him," Kevin proclaimed.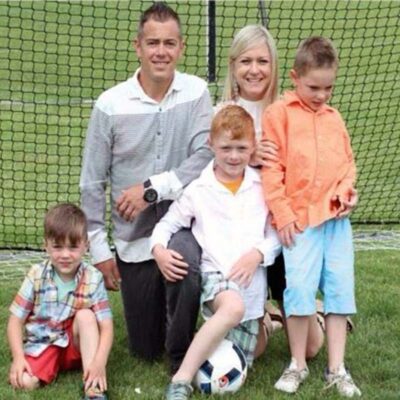 Currently, Liam competes as a midfielder on the elite Chicago Fire FC Academy U14 squad that plays in the MLS NEXT league, recognized as the premier youth soccer organization in the United States. Major League Soccer manages and sponsors MLS NEXT. At the time of this writing, Healey's U14 team is ranked No. 1 in the nation by Soccerwire.com. His Chicago Fire FC Academy U13 team finished last season undefeated at 12-0.
We look forward to following Liam throughout his soccer career.
Click this link to visit Liam's Top Athlete Profile website to see his incredible early-age training video, futsal game highlights, and more. Click on the YouTube video below to watch his U13/U14 soccer Highlights.
Did You Know Soccer is the World's Most Popular Sport?
According to World Atlas, soccer is the No. 1 most popular sport globally with over 4 billion followers, representing over half the population on the planet. Meanwhile, American football—the kind played with helmets and shoulder pads and the most popular sport in America—doesn't even make World Atlas' top ten while basketball ranks 7th with 850 million followers, and baseball comes in 8th at 500 million. Click the following link to see the entire list of World Atlas Top Ten Most Popular Sports.
Related Links
Liam Healey's Top Athlete Website
Chicago Fire FC Academy Official Website
World Atlas' List of The Most Popular Sports In The World